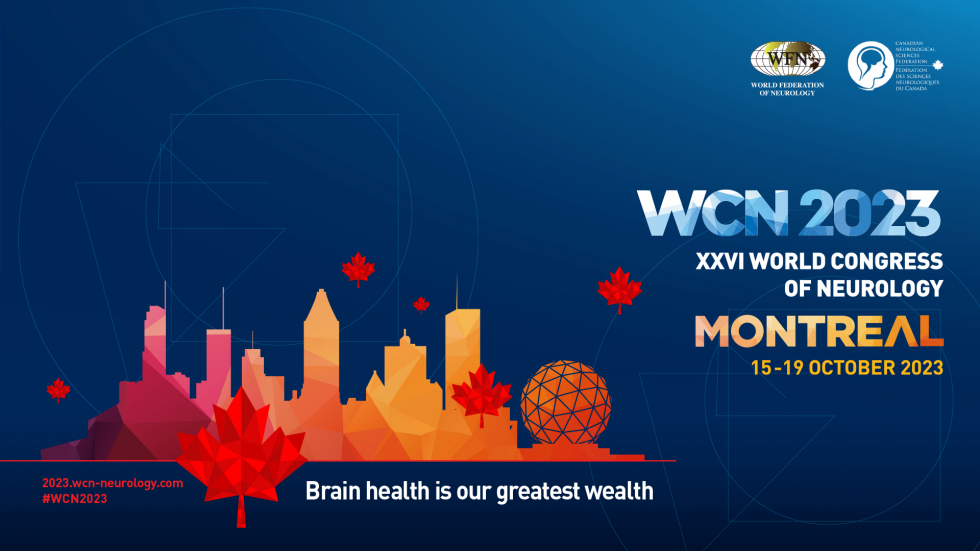 MONTREAL, Oct. 19, 2023 – Stroke is a leading cause of disability worldwide, and over 15 million people suffer a stroke each year—yet 80% of strokes are preventable. There are treatments that can successfully treat a stroke in progress and reduce long-term disability, but they must be given soon after the start of a stroke. Because global health care systems are drastically under-resourced, these treatments are often not available to the people who need them.
Dr. Liping Liu, director of the Neurointensive Care Unit (NICU) at the Neurology and Stroke Center at Beijing Tiantan Hospital, Capital Medical University, revealed new research on these treatments, called reperfusion therapies, at the 26th World Congress of Neurology. Liu argued for the adoption of reperfusion therapies as a global standard for stroke treatment. Additional resources and training in these treatments could save lives and drastically reduce the global burden of stroke.
"There is more and more emerging data about these therapies, and I will be providing the most convincing data yet [on the effectiveness of reperfusion therapies for stroke treatment]," said Liu. "This will help those in general neurology who do not take care of stroke patients as well as providers who see stroke patients in the emergency room."
Reperfusion Therapies Reduce Long-Term Disability but Are Difficult to Administer
Ischemic strokes, the most common form of stroke, occur when a blood clot, fat deposit or other blockage cuts off blood supply to part of the brain. Reperfusion therapies work by opening the blocked blood vessel and restoring blood flow to the brain. They can radically increase the chances that someone will recover from a stroke without significant long-term disability, but health care providers and first responders must be able to recognize the signs and give these treatments within a specific time window after the stroke starts.
Current reperfusion therapies include:
Intravenous thrombectomy (IVT)

, a minimally invasive procedure in which doctors give TPA "clot-busting" medications through an IV line.

Endovascular therapy (EVT)

, which involves inserting a catheter into a blood vessel to remove the blockage and restore blood flow.
Additionally, reperfusion therapies require specialized equipment to administer, which is often not available in ambulances or emergency departments. Because these therapies only work for ischemic strokes, first-responders must also know how to identify this type of stroke and have imaging equipment like portable CT scanners. By the time a patient arrives at the emergency department and has a CT scan to confirm an ischemic stroke, many are outside the optimal treatment window for reperfusion therapies.
Visit wcn-neurology.com to learn more about Dr. Liu and all the featured research at this year's WCN.
---
About the World Congress of Neurology
The World Federation of Neurology's World Congress of Neurology brings together leading neuroscientists and public health experts to turn research into action and emphasize the importance of brain health across the globe. The 26th biennial conference was held in Montreal from October 15 to 19, 2023, and was co-hosted by the Canadian Neurological Society (CNS).
About the World Federation of Neurology
With support from its 124 national Member Societies, the World Federation of Neurology fosters quality neurology and brain health worldwide by promoting neurological education and training, emphasizing under-resourced areas of the world. As a non-state actor in official relations, WFN supports the World Health Organization (WHO) efforts to give everyone an equal chance to live a healthy life. With Member Societies around the globe, WFN unites the world's neurologists to ensure quality neurology and advocate for people to have better brain health. Learn more about the World Federation of Neurology at wfneurology.org.

Media Contact
Ryan Pollock, Yakkety Yak
ryan@yakketyyak.com