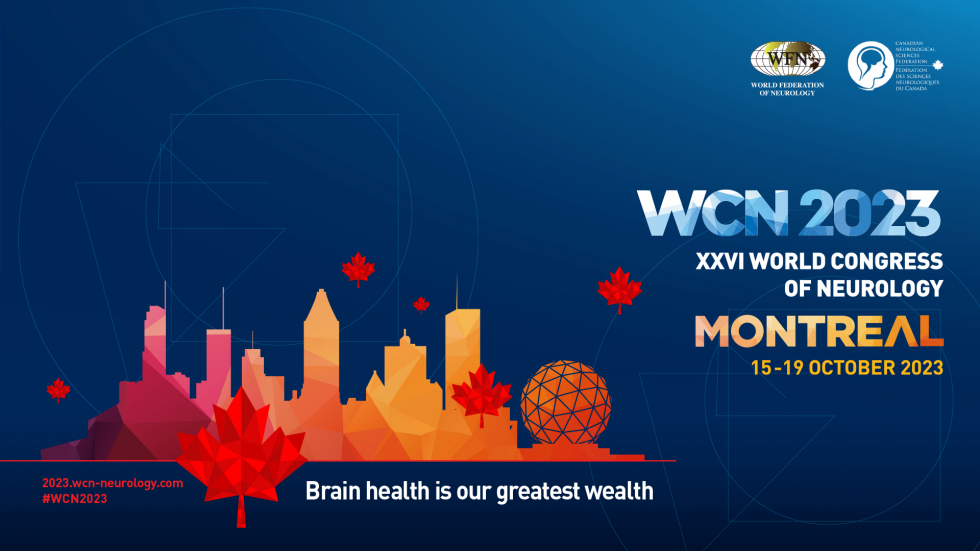 MONTREAL, Oct. 18, 2023 – There is a growing call to embrace patient engagement in the world of health care, and Kathy Oliver, chair of the International Brain Tumour Alliance (IBTA), is one of many patient advocates at the vanguard of this movement around the world. Patient organizations like IBTA are increasingly at the forefront of patient engagement across various health care domains, including in the design of clinical trials, drug development, health care policy, pricing and reimbursement decisions, and regulatory issues.
In a lecture at the 26th World Congress of Neurology, Oliver highlighted the vital role of patient organizations in the health care ecosystem and outlined strategies for engaging patients and their caregivers at all stages of the health care process. Oliver also established five priorities for patient engagement that will help drive collaboration between the patient community and providers, drug developers, legislators, nonprofit organizations and medical societies at the national and global levels.
"We know there are many benefits of engaging with patient advocates," said Oliver. "For example, studies have shown that patient engagement in research can benefit the quality design, recruitment, retention, and even the outcomes of clinical trials. We also know that limited health care resources are allocated much more efficiently and effectively if they're based on patients' priorities and reflect investment in outcomes that really matter most to patients."
Benefits of Patient Engagement in Advocacy and Care
Patient organizations can play an essential role in raising substantial research funding, creating supportive online communities for patients and caregivers, delivering high-quality education and training for patient advocates, and identifying unmet health care needs.
"Patient advocacy engagement with health care professionals, medical societies and others creates a win-win situation to focus on patient needs, wants, desires and goals," said Oliver.
To better drive collaboration and elevate the patient voice in health care decisions, Oliver described five distinct priorities for patient engagement:
Intentional - Collaboration with patients and patient organizations should be based on clear expectations and goals, and interactions should be carefully structured to ensure everyone can contribute equally.
Meaningful - Engagement should focus on patients' priorities, experiences and perspectives to give patients a voice in determining what matters most to them.
Present Opportunities for Mutual Learning - Health care professionals, researchers, medical societies, and patients and caregivers should benefit from direct engagement with multiple other perspectives.
Aimed at Effective Collaboration - Effective collaboration should involve trust, respect, willingness, empowerment and good communication.
Timely - Patient involvement should start as early as possible in research projects to ensure patient perspectives are seamlessly integrated into all stages of the decision-making process, as opposed to only at the final stages of a project.


"Nothing About Us Without Us"
Oliver emphasized that patient engagement should be driven by the guiding principle, "nothing about us, without us." This approach embodies the core philosophy that patients should be central to any decisions, projects, or research studies that impact their lives.
Additionally, patient engagement can meaningfully impact disparities in health care by involving groups of patients that are currently underrepresented in research and clinical trials.
"It's important to engage with patient advocates who can provide a rich and diverse set of perspectives that you may not be able to get anywhere else," said Oliver. "It's also very important to engage with underserved communities and people who are harder to reach, including elderly patients, the pediatric and young adult communities, and those from minority populations."
Visit wcn-neurology.com to learn more about Kathy Oliver and all the featured research at this year's WCN.
---
About the World Congress of Neurology
The World Federation of Neurology's World Congress of Neurology brings together leading neuroscientists and public health experts to turn research into action and emphasize the importance of brain health across the globe. The 26th biennial conference was held in Montreal from October 15 to 19, 2023, and was co-hosted by the Canadian Neurological Society (CNS).
About the World Federation of Neurology
With support from its 124 national Member Societies, the World Federation of Neurology fosters quality neurology and brain health worldwide by promoting neurological education and training, emphasizing under-resourced areas of the world. As a non-state actor in official relations, WFN supports the World Health Organization (WHO) efforts to give everyone an equal chance to live a healthy life. With Member Societies around the globe, WFN unites the world's neurologists to ensure quality neurology and advocate for people to have better brain health. Learn more about the World Federation of Neurology at wfneurology.org.

Media Contact
Ryan Pollock, Yakkety Yak
ryan@yakketyyak.com