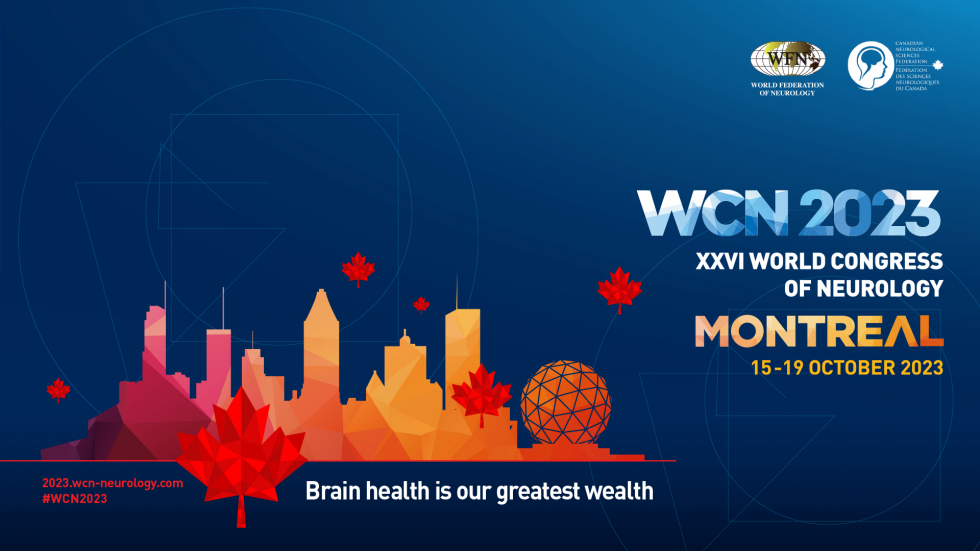 MONTREAL, Oct. 16, 2023 – Neurological disorders are currently the second highest cause of death and the leading cause of disability worldwide. A groundbreaking new Global Burden of Disease (GBD) study shows that the number of people living with brain disease is expected to double by 2050.
"Our study found that over 40% of the global population currently suffer from some kind of neurological condition, and this burden is projected to nearly double by 2050," said Dr. Valery Feigin, professor of neurology and epidemiology, National Institute for Stroke and Applied Neurosciences, Auckland University of Technology. "This is a warning—if we do not do enough to combat neurological disorders, the whole health system will be in crisis."
Feigin revealed findings from the Global Burden of Disease (GBD) study at the 2023 World Conference of Neurology. The GBD study is the most comprehensive effort to date to chart the global burden of neurological disorders and is designed to help guide policymaking and health care decisions at the global and national levels.
GBD Study Identifies the Top 10 Most Disabling Neurological Conditions Worldwide
The GBD study includes data on the 36 most common neurological disorders and conditions worldwide and provides estimates on the prevalence, years lived with disability (YLDs), years of life lost (YLLs) and disability-adjusted life-years (DALYs) for each condition.
Currently, 10 conditions account for around 90% of total neurological DALYs:
Stroke

Neonatal encephalopathy

Migraine

Dementia

Meningitis

Epilepsy

Neurological complications associated with preterm birth

Nervous system cancers

Autism spectrum disorders

Parkinson's disease
"These diseases were the 10 greatest contributors to nervous system burden worldwide," said Feigin. "If we focus on combating these 10 diseases, we can reduce the global burden dramatically, but we need to identify causes, risk factors, the most effective treatments and rehabilitation strategies through research. "
The GBD study will shape healthcare plans, policies, funding and training at both global and national levels. It will also create a better understanding of how neurological disorders affect people worldwide.
Addressing Disparities in Global Brain Health and Neurological Care
Significant geographical and economical disparity is increasing the burden of neurological conditions in low- and middle-income countries. While 80% of the world's population live in low- and middle-income countries, these countries account for over 90% of neurological disability and 84% of all deaths due to neurological conditions worldwide.
"Given that neurological disorders are already the global leading cause of disability and death combined, the fastest-growing cause of death, and that the projected increase of their burden outpace the burden of most other non-communicable disorders, I believe neurological disorders should no longer be 'a' global health priority—they should be considered 'the' global health priority," said Feigin.
These findings will drive research into the most burdensome disorders and direct investment to areas experiencing the highest levels of burden. Additionally, the GBD study will aid policymakers in developing public health agendas, promoting advocacy and awareness, and taking other actions to reduce this burden.
A paper published last week in The Lancet Neurology added to the groundbreaking projections made in the GBD study. According to this paper—titled, "Pragmatic solutions to reduce the global burden of stroke: A World Stroke Organization–Lancet Neurology Commission"—unless urgent action is taken, the number of people who die from stroke globally is estimated to increase by 50%, to 9.7 million deaths per year, by 2050. Based on a review of evidence-based guidelines, recent surveys and in-depth interviews with stroke experts around the world, the authors make evidence-based pragmatic recommendations to reduce the global burden, including measures to improve stroke surveillance, prevention, acute care and rehabilitation.
"Stroke exerts an enormous toll on the world's population, leading to the death and permanent disability of millions of people each year and costing billions of dollars," said Feigin, who is also the Lancet Neurology Commission co-chair.
Visit wcn-neurology.com to learn more about Dr. Feigin and all the featured research at this year's WCN.
---
About the World Congress of Neurology
The World Federation of Neurology's World Congress of Neurology brings together leading neuroscientists and public health experts to turn research into action and emphasize the importance of brain health across the globe. The 26th biennial conference was held in Montreal from October 15 to 19, 2023, and was co-hosted by the Canadian Neurological Society (CNS).
About the World Federation of Neurology
With support from its 124 national Member Societies, the World Federation of Neurology fosters quality neurology and brain health worldwide by promoting neurological education and training, emphasizing under-resourced areas of the world. As a non-state actor in official relations, WFN supports the World Health Organization (WHO) efforts to give everyone an equal chance to live a healthy life. With Member Societies around the globe, WFN unites the world's neurologists to ensure quality neurology and advocate for people to have better brain health. Learn more about the World Federation of Neurology at wfneurology.org.

Media Contact
Ryan Pollock, Yakkety Yak
ryan@yakketyyak.com